Cart 0 product
NJ Claims Against Public Entities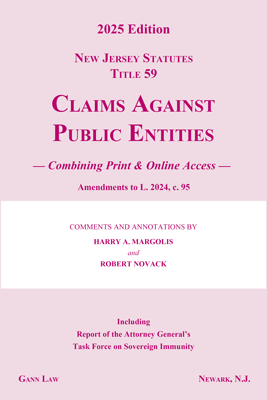 Paperback Edition: 2013
Paperback Edition Commentaries Are Current Through: 212 N.J. 453; 428 N.J. Super. 625; L. 2012 c. 80
The "What's New" Feature Brings The Online Edition Current Through:
213 N.J. 279; 430 N.J. Super. 131; 181 L.Ed.2d 448; L. 2013 c. 53
Author
Harry A. Margolis & Robert Novack


Harry Margolis was born and raised in Newark. He attended Rutgers Law School and was admitted to the New Jersey Bar in 1955. In 1972 he was appointed to the Essex County Court, in 1976 to the Superior Court and left the bench in 2000 after serving on recall following the mandatory retirement age of 70.

Judge Margolis was recognized for his efforts in the establishment of the Inn of Court movement in New Jersey and served for more than ten years as president of the Justice William J. Brennan, Jr. Inn of Court, the first Inn of Court in New Jersey.

Throughout his life, Judge Margolis demonstrated the temperament, demeanor, professionalism, integrity and pride that set an example for all members of the practicing bench and bar.

Robert Novack joined Edwards & Angell, LLP after eighteen years of private practice in New Jersey. Mr. Novack's practice encompasses the fields of securities fraud, officer and director liability, shareholder derivative actions, professional negligence, employment litigation, civil fraud, unfair competition, business torts, public entity liability, contract disputes, franchise disputes, shareholder and partnership disputes. Mr Novack is a graduate of Rutgers University and the University of Miami School of Law.
Email Author
Synopsis
N.J. Claims Against Public Entities

Comments and Annotations by Harry A. Margolis and Robert Novack


Contains the full text of Title 59, both the Tort and contract Acts, with section by section commentary clarifying procedural requirements and provisions regarding the liability and immunity of public entities and public employees. It also contains digests of all New Jersey court decisions. It includes the 1972 Report of the Attorney general's Task Force on Sovereign Immunity, which is the policy basis for both Acts.
When you purchase "Paperback plus Online Access" or "E-Book (includes Online Access)**" , online access to that book which will expire upon publication of the next print edition, roughly one year after publication of the prior print edition.
When you purchase "Online Access Only", such online access will expire one year from the date of purchase.
Purchasing online access to a Gann treatise entitles you to a single user license. Under that license, only the registered user may access the licensed online treatise. Access to that online treatise by other individuals using the login name of the registered user is prohibited, and will result in the loss of the registered user's license for online access.
Immediate access will be granted upon subscription to an online treatise, whether paid by credit card or invoiced to an established Gann account. However, invoices for online access must be paid within 10 business days. Otherwise, continued access may be denied.