Cart 0 product
NJ Public Employment Law - Education Edition New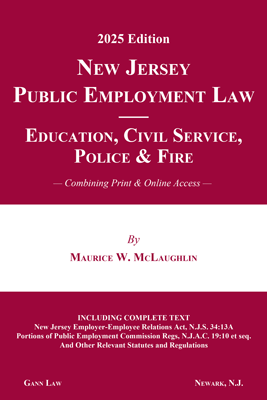 Paperback Edition: 2012
Paperback Edition Commentaries Are Current Through: 209 N.J. 172; 424 N.J. Super. 150; L. 2011 c. 232
The "What's New" Feature Brings The Online Edition Current Through:
215 N.J. 637; 432 N.J. Super. 411; 181 L.Ed.2d 448; L. 2013 c. 169
What's the Value of the Online Edition?
Gannlaw.com Links Primary Law to Gann Commentary to Provide an Integrated New Jersey Research System
You Can't Fit It in a Book:
All online treatises contain the full text of all cited court decisions, NJ rules & NJ statutes.
Access to history of all cited New Jersey statutes & court rules.
The Law Changes:
Keep current with developments in the law between annual print editions.
New law will be highlighted with a "What's New" link.
Faster Searches:
Find a key word or phrase through boolean searches.
Find court decisions, statutes or other primary law references.
Find cases by name or citation.
Each hit is displayed within a detailed Table of Contents format, revealing its substantive context.
Enhanced Functionality:
Cut and paste text into briefs and other documents.
Return to your last ten searches.
Jump directly to any part of the text via a detailed Table of Contents.
Pagination for the Online Edition matches the print edition, so you can easily refer back and forward between them. (Like putting sticky notes in your print edition, or going directly to a page in the online edition to look for the extras (cases, updates, history, etc.))

Preview This Product Online


Sample The Search


Gann E-Books:
Gann E-Books allow you to carry the Gann legal research system in your briefcase — to conduct research and read cases any time, anywhere. All Gann annotated rule books and treatises now come in E-Book format. All Gann E-books include Internet access, enabling you to search the full Gann library online and to keep current with changes in the law. All Gann E-Books also contain the full text of cited statutes and court decisions, now only a tap away. Gann E-Books are optimized for use on iPads and Android tablets.
Author
Maurice W. McLaughlin

Maurice W. McLaughlin is a founding member of McLaughlin & Nardi, LLC, located in Totowa, New Jersey (www.esqnj.com). He leads the firm's litigation practice, and handles a wide range of matters, including employment law and complex negotiations and transactions. Mr. McLaughlin is admitted to the bars of New Jersey, New York, Massachusetts and the United States Supreme Court. He has practiced in state, federal and administrative courts throughout the Northeast.

Mr. McLaughlin also serves as a mediator in disputes between private parties. The Superior Court of New Jersey has appointed him as a mediator in litigated matters and as a mentor to train new mediators.

Mr. McLaughlin has been an adjunct professor with the Public Administration Institute of Farleigh Dickinson University since 1999, teaching courses in law, ethics and communications.

Mr. McLaughlin served with the Superior Court of New Jersey in Hudson County as a law clerk for Judges Barbara A. Curran and Frances L. Antonin. He received his bachelor's degree in political science with a minor in business from Mount Saint Mary's University, and his juris doctor from New York Law School, cum laude, where he served as an editor on the New York Law School Journal of Human Rights. Mr. McLaughlin also has an LL.M. from New York University School of Law. He is a graduate of the Morris Pashman Inn of Court.

Mr. McLaughlin is a member of the commercial and employment law sections and the Pro Bono Committee of the New Jersey State Bar Association. He was chair of the Pro Bono Committee from 2006 through 2010.
Email Author
Synopsis
NJ Public Employment Law - Education Edition
By Maurice W. McLaughlin
A comprehensive review of the relationships between New Jersey public education entities and their employees, this treatise considers the impact of the Constitution on employee hiring, discipline, and termination, as well as the rights of public education employees and collective bargaining in the public sector.
Includes Discussion of:
Hiring, discipline and termination;
Required contractual provisions;
Caps on unused sick leave;
Constitutional limitations on an employer's freedom of action;
Free-speech rights of public employees;
Public-school employees: the meaning and effect of tenure;
Tenure requirements;
Charter schools and State colleges;
Compensation;
Layoffs: seniority and re-employment rights;
Tenure hearings;
Scope of collective negotiation;
Unfair practices;
Responsibilities of majority representatives;
Rights of non-union members;
Public Employment Relations Commission.
When you purchase "Paperback plus Online Access" or "E-Book (includes Online Access)**" , online access to that book which will expire upon publication of the next print edition, roughly one year after publication of the prior print edition.
When you purchase "Online Access Only", such online access will expire one year from the date of purchase.
Purchasing online access to a Gann treatise entitles you to a single user license. Under that license, only the registered user may access the licensed online treatise. Access to that online treatise by other individuals using the login name of the registered user is prohibited, and will result in the loss of the registered user's license for online access.
Immediate access will be granted upon subscription to an online treatise, whether paid by credit card or invoiced to an established Gann account. However, invoices for online access must be paid within 10 business days. Otherwise, continued access may be denied.