2018 NJ Public Education Employment Law - Print/Online
Print & E-Book Editions Now Include Online Access At No Additional Charge
Expires Upon Publication of the Next Print Edition
The Online Edition includes automatic enrollment in email alerts that will inform you of new cases and statutes that have a significant impact on your subscribed treatise(s) -- specifically keyed to relevant paragraphs in your book or E-Book.
You may choose to un-enroll from Gann Alerts through a link we will provide with each Alert.
Next edition to be published on or about February 2019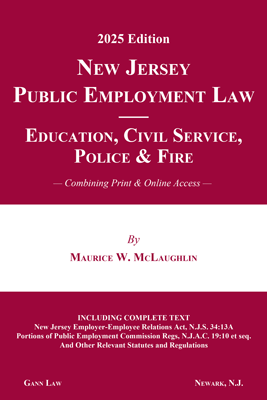 Current Edition: 2018
Current Edition Commentaries Are Current Through:
231 N.J. 230; 452 N.J. Super. 389; L. 2017 c. 279
Online Service:
The "What's New" Feature Brings The Online Service Current Through:
N.J. cases app'd for pub. on June 18, 2018; U.S. Sup Ct cases through 197 L.Ed.2d 662; N.J. Chap. Laws through L. 2018 c. 15
What's the Value of the Online Service?

Gannlaw.com Links Primary Law to Gann Commentary to Provide an Integrated New Jersey Research System
You Can't Fit It in a Book:

All online treatises contain the full text of all cited court decisions, NJ rules & NJ statutes.
Access to history of all cited New Jersey statutes & court rules.

The Law Changes:

Keep current with developments in the law between annual print editions.
New law will be highlighted with a "What's New" link.

Faster Searches:

Find a key word or phrase through boolean searches.
Find court decisions, statutes or other primary law references.
Find cases by name or citation.
Each hit is displayed within a detailed Table of Contents format, revealing its substantive context.

Enhanced Functionality:

Cut and paste text into briefs and other documents.
Return to your last ten searches.
Jump directly to any part of the text via a detailed Table of Contents.
Pagination for the Online Edition matches the print edition, so you can easily refer back and forward between them. (Like putting sticky notes in your print edition, or going directly to a page in the online edition to look for the extras (cases, updates, history, etc.))

* This price is for a single copy, and includes shipping and handling charges. When two or more books are shipped as part of the same order, the shipping and handling charges are discounted. This is a single user product
Email Alerts Included (Learn More)

New Gann 'Alert' Service - Your Gann Online subscription will include automatic enrollment in email alerts that will inform you of new cases and statutes that have a significant impact on your subscribed treatise(s) -- specifically keyed to relevant paragraphs in your book or E-Book. You may choose to un-enroll from this feature
Synopsis

NJ Public Education Employment Law - Print/Online
By Maurice W. McLaughlin
A comprehensive review of the relationships between New Jersey public education entities and their employees, this treatise considers the impact of the Constitution on employee hiring, discipline, and termination, as well as the rights of public education employees and collective bargaining in the public sector.
Includes Discussion of:
Hiring, discipline and termination;
Required contractual provisions;
Caps on unused sick leave;
Constitutional limitations on an employer's freedom of action;
Free-speech rights of public employees;
Public-school employees: the meaning and effect of tenure;
Tenure requirements;
Charter schools and State colleges;
Compensation;
Layoffs: seniority and re-employment rights;
Tenure hearings;
Scope of collective negotiation;
Unfair practices;
Responsibilities of majority representatives;
Rights of non-union members;
Public Employment Relations Commission.
Terms of Use. Please Read.

When you purchase "Paperback plus Online Access" or "E-Book (includes Online Access)**" , online access to that book which will expire upon publication of the next print edition, roughly one year after publication of the prior print edition.
When you purchase "Online Access Only", such online access will expire one year from the date of purchase.
Purchasing online access to a Gann treatise entitles you to a single user license. Under that license, only the registered user may access the licensed online treatise. Access to that online treatise by other individuals using the login name of the registered user is prohibited, and will result in the loss of the registered user's license for online access.
Immediate access will be granted upon subscription to an online treatise, whether paid by credit card or invoiced to an established Gann account. However, invoices for online access must be paid within 10 business days. Otherwise, continued access may be denied.