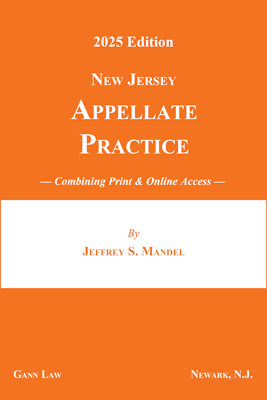 Current Edition: 2023
Print Edition Commentaries Are Current Through:
252 N.J. 40; 473 N.J. Super. 386; L. 2022 c. 120
"What's New"
Online Edition - via Gann's What's New Feature - is Current Through:
N.J. cases app'd for pub. on March 29, 2023; U.S. Sup Ct cases through 214 L.Ed.2d 390; N.J. Chap. Laws through L. 2023 c. 16
What's the Value of the Online Service?

Gannlaw.com Links Primary Law to Gann Commentary to Provide an Integrated New Jersey Research System
You Can't Fit It in a Book:

All online treatises contain the full text of all cited court decisions, NJ rules & NJ statutes.
Access to history of all cited New Jersey statutes & court rules.

The Law Changes:

Keep current with developments in the law between annual print editions.
New law will be highlighted with a "What's New" link.

Faster Searches:

Find a key word or phrase through boolean searches.
Find court decisions, statutes or other primary law references.
Find cases by name or citation.
Each hit is displayed within a detailed Table of Contents format, revealing its substantive context.

Enhanced Functionality:

Cut and paste text into briefs and other documents.
Return to your last ten searches.
Jump directly to any part of the text via a detailed Table of Contents.
Pagination for the Online Edition matches the print edition, so you can easily refer back and forward between them. (Like putting sticky notes in your print edition, or going directly to a page in the online edition to look for the extras (cases, updates, history, etc.))
This price is for a single license, and includes shipping and handling charges. When two or more books are shipped as part of the same order, the shipping and handling charges are discounted.
Single user only
You May Also Be Interested In
NJ Court Rules
NJ Rules of Evidence
NJ Attorney Ethics
NJ Municipal Court Practice
NJ Arrest, Search, & Seizure