Cart 0 product
NJ Title 14A - Corporations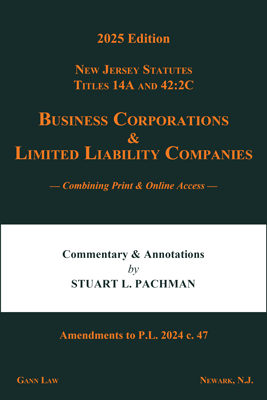 Paperback Edition: 2013
Paperback Edition Commentaries Are Current Through: 211 N.J. 534; 427 N.J. Super. 540; L. 2012 c. 59
The "What's New" Feature Brings The Online Edition Current Through:
213 N.J. 279; 430 N.J. Super. 131; 181 L.Ed.2d 448; L. 2013 c. 53
Author
Stuart L. Pachman

Stuart L. Pachman received his undergraduate education at the University of Virginia and his L.L.B. cum laude from Harvard Law School.

From 1960 to 1994, he was a member of the firm of Clapp & Eisenberg. He is now a member of the firm of Brach, Eichler. He has functioned as both a litigation and transactional lawyer. His practice now is heavily weighted toward corporate and business law and transactions, although he returns to the courtroom from time to time in connection with business litigation.

He is admitted to practice in the New Jersey State Courts and in the Federal District Courts for the District of New Jersey, the Southern District of New York, and the Eastern District of New York and the United States Courts of Appeals for the Third Circuit and the Eleventh Circuit.

He has been active in the Corporate and Business Law Section and the Equity Jurisprudence Committee of the State Bar Association for many years serving as chair of the former from 1986 to 1988. From 1993 to 1999, he served as a trustee of the New Jersey State Bar Association.

He has been a member of the drafting committee or an advisor to the drafts persons of several of the statutes governing business organizations in New Jersey. He is the author of a number of law review and other articles on corporate and business law as well as Title 14A Corporations which was first published in 1988.

Email Author
Synopsis
Title 14A - Corporations

Including complete Commission Comments
Commentaries and Annotations by Stuart L. Pachman


The author's commentaries focus on the case law which has developed since the adoption of Title 14A, with an emphasis on recent trends and developments around the country affecting New Jersey corporate practice. In Addition, he provides invaluable practical suggestions coming from many years of experience in corporate practice.
When you purchase "Paperback plus Online Access" or "E-Book (includes Online Access)**" , online access to that book which will expire upon publication of the next print edition, roughly one year after publication of the prior print edition.
When you purchase "Online Access Only", such online access will expire one year from the date of purchase.
Purchasing online access to a Gann treatise entitles you to a single user license. Under that license, only the registered user may access the licensed online treatise. Access to that online treatise by other individuals using the login name of the registered user is prohibited, and will result in the loss of the registered user's license for online access.
Immediate access will be granted upon subscription to an online treatise, whether paid by credit card or invoiced to an established Gann account. However, invoices for online access must be paid within 10 business days. Otherwise, continued access may be denied.