Cart 0 product
NJ Criminal Code-Title 2C - Annotated
Available For Shipment - June 2, 2013
Shipment will start on or about June 2, 2013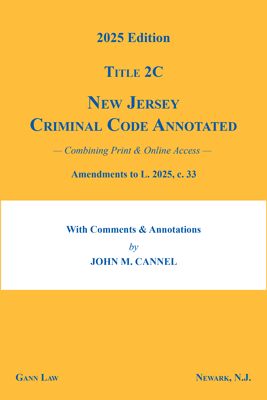 Paperback Edition: 2013
Paperback Edition Commentaries Are Current Through: 213 N.J. 217; 430 N.J. Super. 78; L. 2013 c. 45
The "What's New" Feature Brings The Online Edition Current Through:
213 N.J. 279; 430 N.J. Super. 131; 181 L.Ed.2d 448; L. 2013 c. 53
Author
John M. Cannel

Email Author
Synopsis
Title 2C

N.J. Criminal Code Annotated
N.J. Criminal Code Annotated--With Year in Review (major case law and statutory changes)
Including the complete commentary of the Criminal Law revision Commission of 1971 & 1987 Drug Reform Act Commentary
Comments and Annotations by John M. Cannel


This oft-cited work consists of a section by section analysis of the Criminal Code (Title 2C) and a discussion of the cases arising under and interpreting it since its adoption in 1978. The author's years of experience with the code both during its drafting and since its adoption are brought to bear in a definitive discussion of the statutory language and court decisions. Complete in a single volume, portable paperback format.
When you purchase "Paperback plus Online Access" or "E-Book (includes Online Access)**" , online access to that book which will expire upon publication of the next print edition, roughly one year after publication of the prior print edition.
When you purchase "Online Access Only", such online access will expire one year from the date of purchase.
Purchasing online access to a Gann treatise entitles you to a single user license. Under that license, only the registered user may access the licensed online treatise. Access to that online treatise by other individuals using the login name of the registered user is prohibited, and will result in the loss of the registered user's license for online access.
Immediate access will be granted upon subscription to an online treatise, whether paid by credit card or invoiced to an established Gann account. However, invoices for online access must be paid within 10 business days. Otherwise, continued access may be denied.