Cart 0 product
NJ Personal Injury Recovery
Formerly Entitled NJ Comparative Fault & Liability Apportionment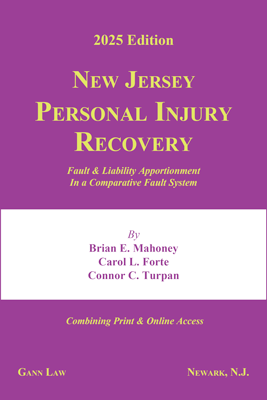 Paperback Edition: 2013
Paperback Edition Commentaries Are Current Through: 212 N.J. 106; 428 N.J. Super. 114; L. 2012 c. 60
The "What's New" Feature Brings The Online Edition Current Through:
213 N.J. 279; 430 N.J. Super. 131; 181 L.Ed.2d 448; L. 2013 c. 53
Author
Brian E. Mahoney

Brian E. Mahoney is an attorney at Blume, Goldfaden, Berkowitz, Donnelly, Fried & Forte, P.C. in Chatham, New Jersey. He attended the University of Exeter in England and received his B.A. with honors from the College of William & Mary in Williamsburg, Virginia in 1976. He received his J.D. with honors from Rutgers Law School - Newark in 1979. He was admitted to the New Jersey Bar in 1979. He is certified as a Civil Trial Attorney by the New Jersey Supreme Court.
Email Author
Synopsis
NJ Comparative Fault and Apportionment Law

By Brian E. Mahoney

For the first time, NJ attorneys have access - in a convenient, single paperback volume - to a detailed study of New Jersey's complex comparative fault and apportionment laws.This treatise provides a practical summary and analysis of NJ laws governing issues of comparative fault, cause and damages apportionment, rights of contribution, express and implied indemnification, and joint and several liability. The format and organization of this work provide ready access to some of the most vexing daily trial court issues concerning:
The Rogers/Cartel rules of partial pre-trial settlement (and their exceptions) in multi-defendant litigation;
the difficult evolution of contribution and joint and several liability rules applicable to ordinary civil cases, Tort Claims Act cases and environmental tort litigation;
a chapter-by-chapter accounting of case specific rules which dictate different fault assignment and damage apportionment results in discrete areas of the law;
an overview of those rules which influence ultimate issues of fault shifting in the matter of immunities, express and implied indemnities, and vicarious liability doctrine;
the rules governing apportionment problems in the matter of the predecessor torts, pre-existing conditions, concurrent causes, indivisible damages and successor torts;
a chapter-by-chapter accounting of the rules governing comparative fault pleadings and procedure, choice of law considerations, "ultimate outcome" instructions to juries, arguments to juries, compromise, and quotient verdicts, "double molding" of comparative fault percentages, additur/remittitur in percentages, Turon rule inquiries, verdict molding difficulties, and the collateral source statute.
When you purchase "Paperback plus Online Access" or "E-Book (includes Online Access)**" , online access to that book which will expire upon publication of the next print edition, roughly one year after publication of the prior print edition.
When you purchase "Online Access Only", such online access will expire one year from the date of purchase.
Purchasing online access to a Gann treatise entitles you to a single user license. Under that license, only the registered user may access the licensed online treatise. Access to that online treatise by other individuals using the login name of the registered user is prohibited, and will result in the loss of the registered user's license for online access.
Immediate access will be granted upon subscription to an online treatise, whether paid by credit card or invoiced to an established Gann account. However, invoices for online access must be paid within 10 business days. Otherwise, continued access may be denied.